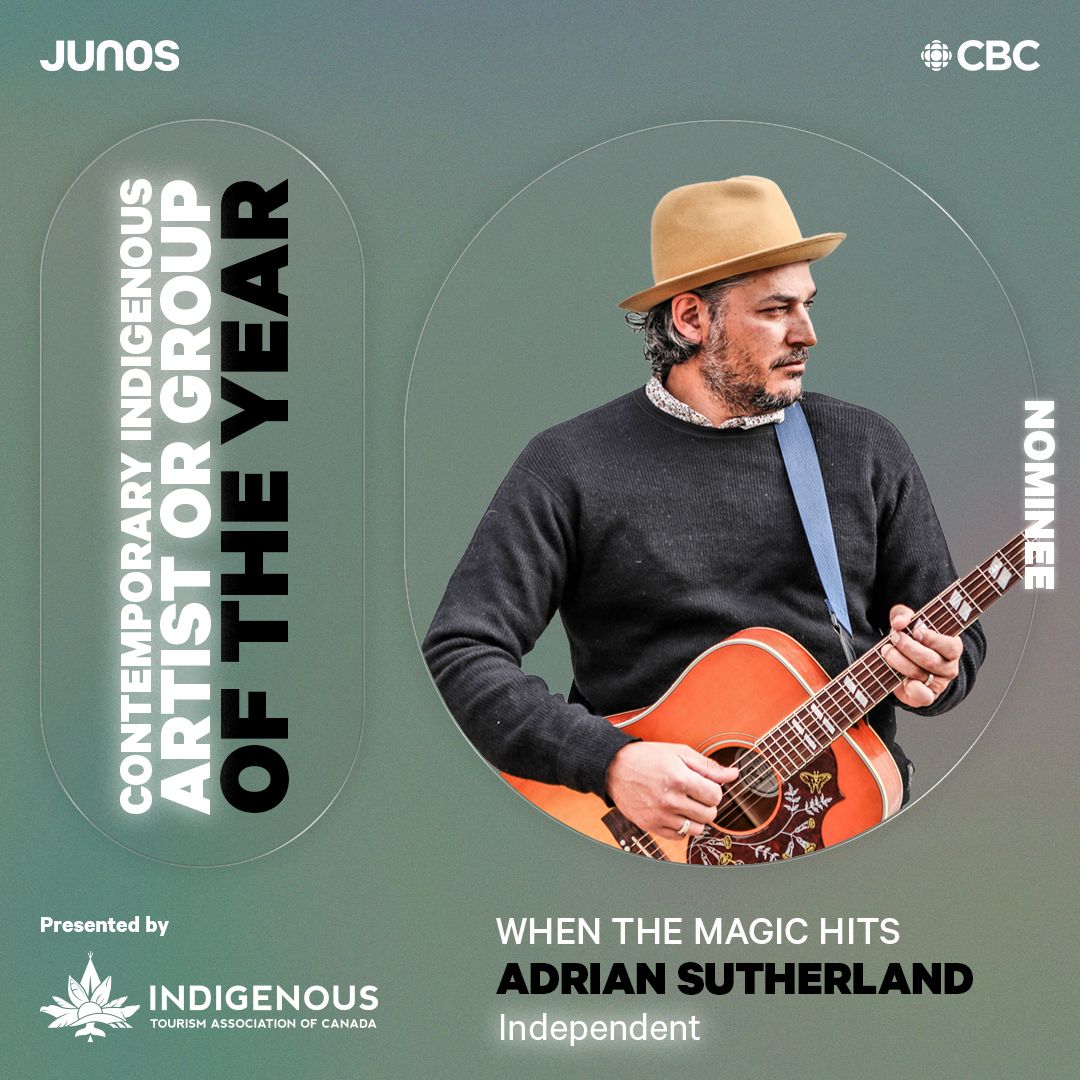 Adrian Sutherland's debut solo album, When The Magic Hits, was released September 17, 2021 to much acclaim. On March 1, he received his very first JUNO Award nomination, in the category of Contemporary Indigenous Artist Or Group Of The Year.   
"I couldn't be happier about this news," says Sutherland. "Even though it's my first JUNO nomination, I've been working hard at my music career since 2011. It means a lot to see that my new album is being recognized by the industry."     
Like many musicians, roots-rock artist Adrian Sutherland spent time during the pandemic to record and release an album. But unlike many, before he could even begin, he first had to construct a studio in remote Northern Canada.   
When the pandemic began in March 2020, Sutherland found himself fully isolated in Attawapiskat First Nation – a fly-in-only location that cancelled all flights. With zero access to studio infrastructure, he'd have to fully DIY it. Adrian spent the summer learning how to work remotely, and making plans. By fall, he began constructing and gearing up recording space in a metal shipping container located in his backyard. By spring of 2021, he was finally able to begin working from inside his 'SeaCan Studio' to record tracks for When The Magic Hits.  
ABOUT THE ALBUM  
When The Magic Hits is an impressive solo debut. Seven tracks were produced, engineered and mixed by GRAMMY Award-winning Canadian-born producer Colin Linden, who worked remotely from Nashville while Adrian remained isolated in Attawapiskat. Colin brought his legendary guitar talents to the tracks, helping bring Adrian's music to life with a whole new depth of heart and soul.  
FUN FACT… Colin Linden is also nominated for this year's JUNO Awards, in the category of Blues Album Of The Year for his record bLOW, which by coincidence was released on September 17 – the same day as Adrian's album.   
Featured on the tracks produced by Colin are his wife Janice Powers on keyboard and organ. Jerry Roe (Nashville) and Gary Craig (Toronto) both contributed drum tracks, with John Dymond (Toronto) on bass. Adding to the magic is Chris Carmichael. It was Colin's 11th hour decision to bring Carmichael into the mix, who added stellar sounds of a full string quartet to two ballads – Once That Was You and Walk With Me. It was only later that Sutherland learned Carmichael has performed on seven GRAMMY-winning records and 25 gold and platinum albums!  
Two of the album tracks – Right Here and Make Me Better – were produced, engineered and mixed by Tim Vesely, who also co-wrote the songs, and plays guitar and bass on the recordings. Adrian worked remotely with Tim, producing out of The Woodshed Studio in Toronto. Vesely brought in Colin Cripps for electric guitar, and Lyle Molzan for drums.  
In addition to Vesely, When The Magic Hits features co-writes with brothers Chris Gormley (The Trews) and Matt Gormley (Daylight for Deadeyes), Jay Semko (The Northern Pikes), Scott Dibble (Hemingway Corner), Serena Ryder, and Colin Cripps (Blue Rodeo).